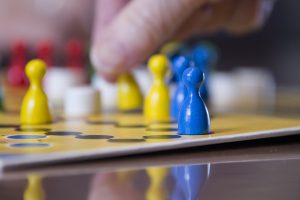 The holidays are here! With family nights happening more often than the rest of the year for most of us, many of us are falling back to those super fun game nights of our youth. Are you planning some upcoming game nights with your family? I know I am. 
My games are looking a bit worn and ragged though and I would love to replace them with new ones. I mean, I've got a few games that I will continue to use for years on end, but when the board from your board game starts to fall apart, it becomes a problem. That's why I decided to put together this list of the perfect games for family game night so I can remember which ones I need to order. 
The Perfect Games for Family Game Night
Here are some perfect games for your super fun upcoming family game night.  
Uno – Uno is a classic, simple game that is easy for even young family members to catch on to. Plus, it's great for those who don't have a long attention span and prefer a quicker packed game.  
Yahtzee – Yahtzee is always a family favorite around here! It's fun for people of all ages and it's easy for everyone to play too. We played this recently and let my 5 year old play as well and it didn't slow the game down at all. 
Sorry – As long as your family members are too competitive, Sorry is super fun, super fast past game. 
Monopoly – I love monopoly, but I don't love it enough to play it all the time. My 14 year old son loves this game and would literally play it every weekend if he could. It's just a great classic that deserves to be in everyone's game cabinet. 
What's your favorite game to play during family game nights?