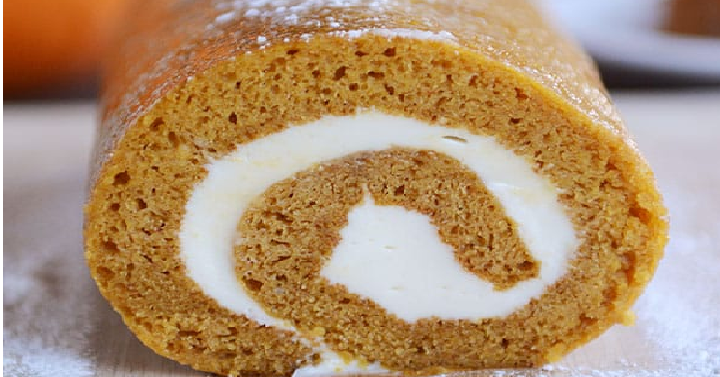 (Recipe & pic by Me'ls Kitchen Cafe)
Oh pumpkin. This time of year I eat, sleep and breath pumpkin. Yes, it's that good. If you haven't tried a pumpkin roll you are really missing out. It's just the right amount of sweet and fluff. This recipe is one of my all time favorites and my family sure enjoys it too. It does take a bit of time and love, but in the end it will all be worth it.
Ingredients:
Cake:
1 cup (7.5 ounces) granulated sugar
3/4 cup (3.75 ounces) all-purpose flour
1/2 teaspoon salt
1 teaspoon baking soda
1/2 teaspoon cinnamon
3 large eggs
2/3 cup canned pumpkin puree
1/2 cup chopped walnuts (optional)
Filling:
8 ounces cream cheese, softened (see note)
1 tablespoon butter, melted
1 teaspoon vanilla
1 cup (4 ounces) powdered sugar
Additional powdered sugar, for dusting
Directions:
Preheat the oven to 350 degrees. Grease a 15- by 10-inch jelly roll pan. Cut parchment paper to fit the bottom of the pan and leave an inch overhang on each of the short ends of the pan. Lightly grease the bottom and sides of the jelly roll pan.
In a large bowl, mix the sugar, flour, salt, soda, cinnamon, eggs and pumpkin until just combined and no dry streaks remain.
Spread the batter evenly in the prepared pan. Sprinkle the walnuts, if using, on top of the mixture. Bake for 14-15 minutes until edges pull away from the sides of the pan and a toothpick inserted in the center comes out clean.
Lay a large kitchen towel on the counter top (it is best to use a dishtowel without any texture – a tea towel or flour sack towel works best). Spread a dusting of powdered sugar all over the towel.
When the cake comes out of the oven, turn the pan upside down on the powdered sugar-laden towel so the cake falls out onto the towel. Peel off the parchment paper, being careful not to tear the cake roll.
Starting at one of the short ends, roll the pumpkin cake up with the towel and let it cool completely while rolled up.
While the roll is cooling, mix the cream cheese, butter, vanilla, and powdered sugar together with an electric mixer until it is light and creamy.
Once the cake roll is cooled completely, unroll (but don't flatten out the cake roll; it's ok if it's slightly curved still), and with an offset spatula, carefully spread the filling in an even layer over the cake.
Roll up the cake without the towel and place it in the refrigerator, covered with plastic wrap, to firm up, at least an hour.
Dust the top with powdered sugar, if desired, and cut into slices.
Enjoy!