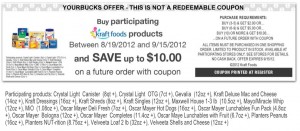 I wanted to give you a heads up on an additional deal with The Kraft catalina offer I shared with you a couple days back.  You can get Planters Peanuts for just $1.99 a bottle after coupons and rewards. Here are the details:
Buy 3-5 participating Kraft products get back $2 RR, Buy 6-9 products get back $5 RR, Buy 10+ products get back $10 RR
Buy (4) Planters Peanuts 16oz – $3.99 each
Use (1) $1/2 Planters Peanuts 16oz, Mixed Nuts 10.3oz or Cashew Halves & Pieces 8oz Walgreens Mobile Coupon (deducts $2)
PLUS use (4) ) $1/1 Planters Product from SS 6/24  (exp 8/31)
Pay $9.96, get back $2.00 RR
That works out to be just $1.99 per bottle after coupons and rewards.  If you mix it with (3)  Kraft Singles and (3) Oscar Mayer Deli Meats you can get them for as low as $0.89 each after coupons and rewards. 
Don't forget about the $1/1 Kraft singles printable coupon and the $1/1 Oscar Mayer Deli meat printable coupon available too. When you buy five of each you pay just $0.50 each after coupons and rewards.
Don't forget you can mix and match, all you have to do is buy a certain number of products. If you still have your FREE Oscar Mayer Hot dog or Cold Cuts coupon from facebook this might be a good time to use it.  The hot dogs are included in the Kraft Catalina as well so you could get either one.
If you don't have enough computers to print all the coupons you need, find a coupon friend to combine forces and split the loot! 😉
Check out all the best Walgreens deals here.
Thanks Wild for Wags (planters deal)