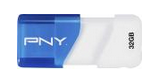 You can never have enough digital storage these days, especially if you have a ton of music, videos, or pictures you want to back up. Right now Best Buy is offering a choice of 32 GB or 64 GB PNY compact attache flash drives for $10.99 and $19.99 respectively. Shipping is free or you can pick up your order at your local store for free!
These are Best Buy Deals of the Day, though, so you'll want to order these before tonight!
Don't miss the Best Buy Black Friday ad!
Resources You Might Like: