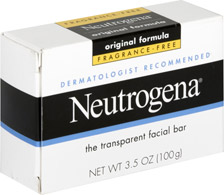 This deal is most likely regional, as it was available in some areas last week. It wasn't available in the stores in my area last week, but it's in this week's ad. This week at CVS, some areas may see a deal to buy three Neutragena facial care products and get a free tote bag and $10 ECB.
It's been reported that buying three Neutragena transparent facial bars will trigger the ECB and free tote at the register, but your mileage may vary with this one. If you don't see the tote bags, make sure you ask an associate. They may be behind the register or in the back.
Buy (3) Neutragena facial bars @ $2.99 (Online price check – prices may vary by store.) 
– Pay $8.97 out of pocket
– Get a FREE tote ($9.99 value)
– Get $10 ECB
Final Cost: FREE!!
If you want to roll your ECB, you can also get some FREE Excedrin!
Buy (4) Excedrin Extra Strength @ $4.99 (Get $10 ECB wys $20) 
– Use (4) $2.00 off any one (1) Excedrin product
– Stack with $2/$12 Advil, Aleve, Payer, Excedrin, or CVS Pain Relievers from CVS coupon machine
– Use $10 ECB from Neutragena deal
– Pay nothing out of pocket!
Final Cost: FREE!!
Make sure you check the other great deals you can get at CVS this week!
Going shopping? Check out all of the recent coupon deals we've found!