Right now on the Target website, you can save $10 on select Nicorette or Nicoderm CQ when you use the promo code QUITNOW at checkout. The Nicorette 20-ct gum (Fruit Chill and White Ice) is only $9.99, and the $10 discount makes it free, and you'll get free shipping!
You can't order just the gum and have it shipped. I already tried. However, you can order two packs of the gum, and one will be free. Here's what you should see at checkout: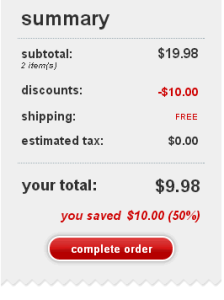 This makes a nice addition to some of the other smoking cessation sales and coupons I posted about earlier for anyone resolving to quit smoking this year!