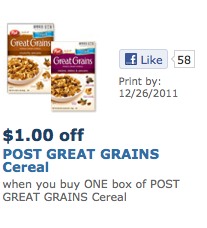 Post cereal printable coupons have been a bit rare as of late.  So don't miss this one to help you save $1 off one box of Post Great Grains cereal.  Post cereals are on sale at Walgreens through tomorrow 10/8.  Some stores carry this type, so after coupon you can get them for just $1 per box.  You may want to call your store to find out of they carry these type.
And while we are talking about Post cereal at Walgreens there seems to be an unadvertised promotion on Post Honey Bunches of Oat cereal
Buy four boxes of Post Honey Bunches of Oats cereal 2/$4
Pay $8 and get back a $3 Register Rewards

That's like paying $1.25 per box f Honey Bunches of Oat cereal.  I believe this is as cheap as you can get this cereal.  It is hard to find it on a very good sale.
Here are other cereal printable coupons from my coupon database.
Thanks, Mashup Mom!