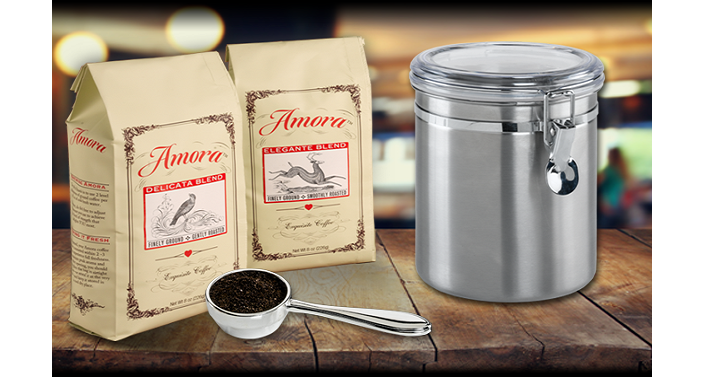 For a limited time only you can pick up a Premium Coffee Gift Box for only $14.96! Plus shipping is FREE for everyone! This box is valued at $57 and includes 2 bags of Amora coffee, a silver-plated scoop, and our stainless steel air-tight canister!
Amora coffee is roasted in the USA by fifth-generation Master Roasters devoted to bringing you the perfect cup, and it's hand packed in oil-lined bags while still warm to protect the flavor and aroma. You can even choose your own flavor!
Delicata – Light
Elegante – Medium
Vigorosi – Dark
Intenso – Robust
Angelico – French Vanilla
Carezza – Caramel Vanilla
Flirtare – Hazelnut & Cinammon
Passionata – Chocolate Truffles
This set is a great gift idea for someone on your Christmas list! I love being able to check names off my list with great gift sets like this one.