Being prepared should be a priority for every family. Because, you never know what's going to happen, and it's better to have something and not need it than need something and not have it, right? I'm not talking about Zombie Apocalypse level survival here either. Situations like natural disasters happen all the time, and being caught unprepared can be pretty darn inconvenient, at best!
That's why I try to pick up thee survival food packs from time to time to store for my family. Just in case. I've started buying emergency supplies here and there to slowly build up my emergency supply, instead of dropping a ton of money all at once. That also gives me a chance to take advantage of great sales and deals too, like this one on eBay today!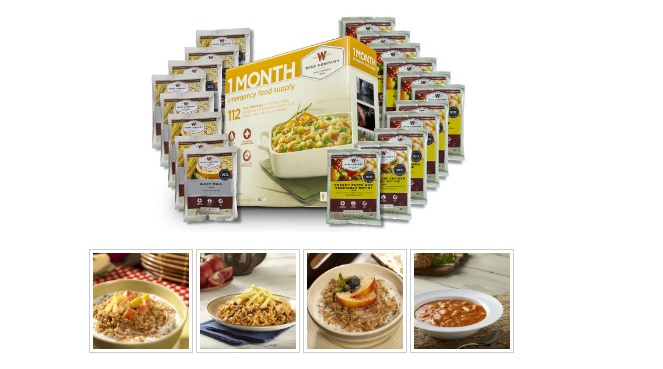 The Wise 1-month emergency food and drink supply is marked down to only $59.99 right now with free shipping. That's 40% off the original price of $99.99, and even better than Wal-Mart's current Rollback price of $89.99.
The food in this box is safely sealed in Mylar pouches and has a 25 year shelf life. This kit includes:
1 pouch of Chicken Noodle Soup (4 total servings)
1 pouch of Potato Pot Pie (4 total servings)
1 pouch of Creamy Pasta (4 total servings)
1 pouch of Tomato Basil Soup (4 total servings)
1 pouch of Savory Stroganoff (4 total servings)
2 pouches of Southwest Beans and Rice (8 total servings)
1 pouch of BBQ Beans with Natural Bacon Flavor (8 servings)
1 pouch of Rice Pilaf (8 servings)
1 pouch of Granola Crunch (4 Servings)
3 pouches of Brown Sugar and Maple Multi-Grain Cereal (12 Servings)
3 pouches of Apple Cinnamon Cereal (12 Servings)
2 pouches of Whey Milk (28 servings)
1 pouch of Orange Delight (12 servings)