Anyone who wears glasses should have an extra pair. The only problem with that theory is that prescription glasses are usually quite expensive, especially when you buy them from your optometrist's office.
Get an inexpensive pair of glasses from Eye Buy Direct
! Prescription glasses – frames and lenses – start at just $6 and shipping only adds an additional $5.95. I just ordered yet another pair and only paid $11.95 total…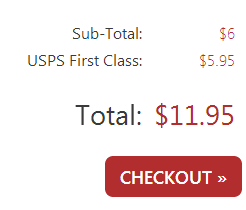 I've ordered from Eye Buy Direct
several times since Christmas for my family members and myself, and I couldn't recommend it more! Even though the prices are so low, the glasses that you get are pretty good quality. You'll even get a free anti-scratch coating.
Before you order, you'll need a copy of your eyeglasses prescription. You may already have this from your last eye exam, or you may be able to obtain it from your optometrist.