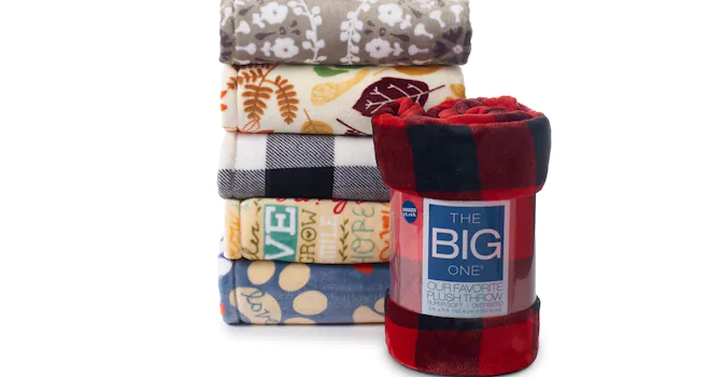 This HOT deal will only work once the sale starts and before the old codes expire. A very narrow window tonight!
KOHL'S BLACK FRIDAY SALE!!!
The Big One Supersoft Plush Throw
$8.99 – Black Friday Pricing
*$7.64 after 15% off code
Use codes NOVFAMILY and NOVHOME10 tonight only! They expire today! If you buy 8 of these your total is just $49.53 PLUS you will earn $15 in Kohl's Cash! That's like paying $4.31 each! HOT HOT HOT!
We use this deal every year to get teacher and friend gifts for the kids! That $4.31 price point is AMAZING!
(Why Kohl's Cash on a purchase under $50? If you make a purchase within $2 of the Kohl's Cash earned criteria, you will receive Kohl's Cash. For example, if you place an order of $48, Kohl's will round that purchase up to $50 and distribute $10 Kohl's Cash.)
Kohl's is by far one of the most popular Black Friday sales! There are great deals, great discounts and the ever popular "Earn $15 in Kohl's Cash for Every $50 You Spend"! That amount of Kohl's Cash only happens for Black Friday. The best deals sell out FAST so make your purchases quick!
Right now there is a 15% off code that will be active during the Kohl's Black Friday sale. There will not be a 30% off code. This will be the only code that works during the Kohl's Black Friday sale.

Percent Off Code: Take an extra 15% off – CHEERFULL – valid 11/19-11/23
Free Shipping on $50. No code required.
or
Buy online and pickup in store.
Kohl's Black Friday Kohl's Cash – Once a year amount!
Earn $15 in Kohl's Cash for every $50 you spend from 11/19 – 11/23. (Redeem 11/24 – 12/5.)
Check out the 2018 Kohl's Black Friday ad scan!
Be sure to check out the rest of the available Black Friday ad scans HERE!