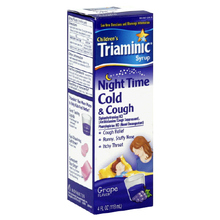 Great news!  the printable coupon good on Triaminic products is back live on the Triaminic website.  The coupon is for $1.50/1 and Triaminic Product.  Print this coupon now and save it for the week of 10/18 through 10/24.  Walgreens will have Triaminic products on sale for $4.99 each, Buy three and get a $8 RR back.  Here's how your deal will look like:
$14.97 wyb three Triaminics
-$4.50 when you use three printable coupons (can print two per computer)
-$6 when you use coupon in Healthy Savings Coupon Booklet
Pay $4.47 plus tax out of pocket and get a $8 register reward back!
If you are interested in this deal don't put off printing this coupon.  Last time there was a sale available the coupon was pulled from the website the day before the sale started.
Happy Savings!