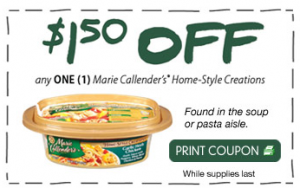 UPDATE:  Reportedly the Marie Callender's Home Style creations sell for $1.99 at Walmart.  Only 49 cents after coupon.
Save $1.50 off one Maria Callender's Home Style Creation with this printable coupon. This is a new products and I still don't know how much it sells for but I am willing to bet that this coupon gives you a good discount on it, at least 50%.  Since it is a new product, expect a good sale to go with this coupon.  It is also a good coupon to have for Kmart super doubles starting next week, if your local store is participating.
Here's another printable I just spotted on Coupons.com:
$1 off two Horizon Organic Large Dozen Eggs
There are also two toy coupons available : $5 off $20 My Little Pony Purchase and $5 off $20 Nerf Purchase.  Use with this $5/$20 toy purchase coupon good at Kmart (expires 8/31)to get $10 off these toys.  My only advice would be to make sure you price compare these toys at other stores just to make sure you really are getting a good deal at Kmart.
Happy Savings!