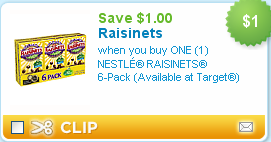 New month = new printable coupons.  Since we are in the full swing of back to school sales we are seeing lots of coupons for back to school food items.  Here's a the latest that have popped up:
$1 off one Six pack of Raisinets (there are two available and even though both say good at Walmart or Target, they are both manufacturer coupons)
$0.40/1 Betty Crocker Fruit shapes snacks
$1/3 Del Monte Fruit Cups Thanks Pamela!
$1/1 Bagel Bites Frozen Snacks (18ct or larger)
There are also a lot of coupons for General Mills products on Coupons.com.  These are all really great coupons and very important to have available right now.  Expect a lot of good sales on products that carry Box Tops for Education (BTFEs).  I know that Kroger is getting ready for  a Mega sale event on General Mills products in a couple of weeks and all of these coupons will come in handy for that.  Other grocery stores will have promotions where you buy X number of products with BTFEs on them and you get catalinas with additional BTFEs.
Because your children should be ready for learning on a full stomach, use these coupons for Bagels, eggs and a couple of other breakfast items available on the Walmart website.  This is part of Walmart's pantry stimulus challenge to stock up your pantry for less.  Thanks Crazy Over Coupons.
Happy Savings!