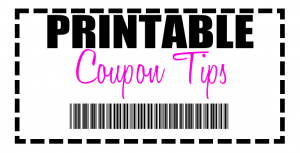 Welcome to Part 2 of our Printable Coupon Tips series!
In this series, we'll explore different ways to save time, money, and frustration when using printable coupons. Hopefully, you'll learn a few things to make your printable coupon experience smoother and easier.
(See tips 1 – 5 in Part 1 of the series.)
6. Invest in a Quality Printer
When you're printing lots of coupons, a cheapie inkjet printer probably won't cut it for you. If you're a heavy coupon printer, make sure you invest in a good quality printer. I prefer my laser printer for printing coupons, since it's less expensive than my old inkjets and the print quality is superior. I've never had a coupon not scan due to poor print quality when I use my laser printer.
7. Keep Your Devices Updated
Oftentimes, computers need to be updated with the latest software in order to print coupons. Make sure you have the latest version of Java installed in particular.
8. Try Different Browsers
I have two main computers that I do most of my coupon printing on. I use the Opera browser on my desktop and the Torch browser on my laptop. Unfortunately, neither of these browsers are supported by the major coupon printing websites. If you're having trouble printing coupons and your computer is up to date, try switching to a different browser. I usually have no trouble with Chrome, Firefox, or even Internet Explorer.
9. Print More Than One Coupon
Keep in mind that you can only usually print two coupons per device. That means that if you have only one computer, you can print each coupon twice, but if you have three computers, you can print each coupon six times. I'm not suggesting that you should go out and buy more computers for extra prints, but you may be able to use extra computers around the house to print multiple coupons when a particularly great deal comes along.
10. Print Coupons From Your Apple Device
Most wireless devices aren't capable of printing coupons. However, if you're lucky enough to have an Apple iOS device, such as an iPhone or iPad, you may be able to get another set of prints if you have a compatible wireless printer. You'll first need to set up your printer to print wirelessly, then download the Coupons.com app. From there, you should be able to print coupons.
More Frugal Living Resources: