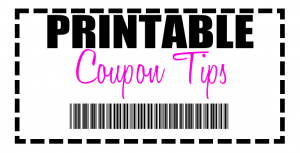 Welcome to Part 2 of our Printable Coupon Tips series!
In this series, we'll explore different ways to save time, money, and frustration when using printable coupons. Hopefully, you'll learn a few things to make your printable coupon experience smoother and easier.
(See tips 1 – 5 in Part 1 of the series and tips 6 – 10 in Part 2 of the series.)
11. Print in Draft Mode
You can save printer ink – and money – by printing coupons in draft mode. This mode uses less ink, but usually has decent enough quality for coupons to scan correctly. If you're a Windows user, your printer settings should be located in your Control panel.
12. Print on the Back Sides of Paper
Paper can be one of the biggest expenses when printing coupons regularly. To save on paper for printable coupons, try to recycle as much paper as you can. Flip over old pieces of paper and use the blank sides to print coupons. Think junk mail, fliers, and even school papers.
13. Use Every Scrap of Paper
When you cut out a printable coupon, you'll find that you have lots of paper scraps. I like to organize the larger scraps by size and staple them together to make DIY scratch pads. The long thin scraps are great for grocery lists! The larger scraps, such as the big pieces I have left after cutting out just one printable coupon, are usually used as drawing paper by my kids.
14. Stay Organized
You can't save any money if you can never find your coupons! In fact, you'll just be wasting money when you factor in the cost of the paper and ink. Stay organized by using a printable coupon binder. This way, all of your printable coupons are in one place. Organize them alphabetically by brand, by category, or by expiration date. There's really no right or wrong way to organize a printable coupon binder, as long as it works for you!
15. Only Print What You'll Use
Again, if you don't use a printable coupon, you're just wasting money. Only print coupons that you know you'll use to avoid waste. Before you hit that print button, make sure you know exactly where and when you'll use each coupon. Occasionally, though, you'll run across a printable coupon that you simply must have, such as a super high value one, a rare one, or one for a product that you buy frequently. In that case, print away! If you're unsure of whether a coupon will be available in the future, here's a little trick. Head over to our Savings Center, and look under the "Popular Categories" heading. Click on "More…", then click on "Expiring Soon". It's not a foolproof method, but it should give you an idea of whether a printable coupon will be around for a while.
More Frugal Living Resources: