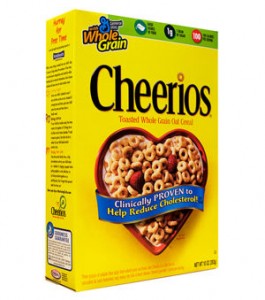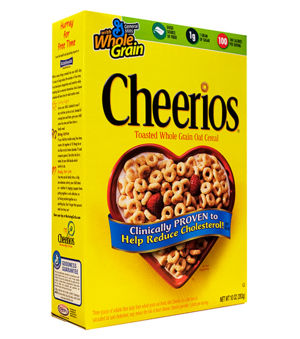 Eat Better America just updated the list of printable grocery coupons it has currently available. The are offering a very hot printable coupon for $1 off Cheerios cereal. There are also quite a few coupons for Fiber one products. This is the complete list of coupons available.  Click here to access all of these coupons:
$1 off Original Cheerios Cereal
$1 off any Flavor Yoplait Frozen Smoothie
$1 off One bag any flavor Nature Valley Granola Nut Clusters
$1 off two any flavor/variety Muir Glen products
$1 off any flavor Yoplait Delights Yogurt Multipack
$1 off Yoplait Fiber One Yogurt Multipacks
$1 off 2 Original Cheerios, Honey Nut Cheerios,Berry Burst Cheerios,Frosted Cheerios, Fruity Cheerios, MultiGrain Cheerios, Apple Cinnamon Cheerios, Yogurt Burst Cheerios, Cheerios Crunch, Banana Nut Cheerios, Chocolate Cheerios cereal
$1 off 2 40 OZ. or larger Original Bisquick OR Bisquick Heart Smart Baking Mix
$1 off 8 any variety Yoplait Yogurt cups (Includes Original, Light, Thick & Creamy, or Whips! or any flavor Yoplait Original OR Light Smoothie
$1 off 3 any variety Green Giant Frozen Boxed Vegetables
$1 off 3 any flavor Progresso Soups
$1 off 2 bags any variety 19 oz – 24 oz only Green Giant Frozen Bagged Vegetables
$1 off 2 boxes any flavor/variety Nature Valley Granola Bars
$1 off 2 any variety Green Giant Just for One vegetables
$1 off 2 any variety Green Giant Valley Fresh Steamers frozen vegetables
$1 off 2 any flavor/variety Fiber One Box Muffin Mixes
$1 off Fiber One Original, Fiber One Honey Clusters, Fiber One Raisin Bran Clusters, Fiber One Caramel Delight, Fiber One Frosted Shredded Wheat cereal
$1 off 2 boxes any flavor Fiber One Chewy Bars OR Fiber One 90 Calorie Chewy Bars
Thanks Deal Finding Chick!