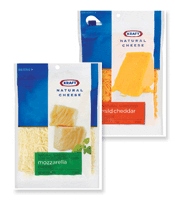 If you have loved printing those printable coupons for Cheese, Milk and Yogurt available on Coupons.com over the past few days, I have great new for you! They are also available on the Dairy Makes Sense website. These coupons are also restricted for use in the following states: MN, ND, SD, IA, IL, KS, AR, OK, and MO. Update: coupons are gone now.
If you do not leave on any of those states don't feel left out, I also have great news for you.  The coupon for $1 off two Kraft Cheeses has also reset and is available to print again (IE Link) (FF Link).
Thanks Money Saving Mom!
Looking for more printable coupons? Don't forget to search my Coupon category. This is easy to do by using the search bar located right at the top of my blog. Also, you will always find printable coupons available on the following websites: Coupons.com, Red Plum and Smartsource.