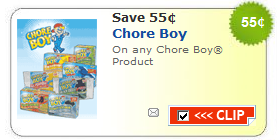 It's a new month and that means new or reset coupons everywhere! Here are some of the newly available coupons:
Coupons.com <– Click to print
$0.55/1 any Chore Boy product (if your store doubles it may make single pads free)
$0.75/1 Muir Glen product
$1/1 Cat's Pride Litter
$1.50/1 Aveeno Nourish hair styling
$1/1 Aveeno Nourish Shampoo or conditioner
$0.75/1 any Cascadian farms
$0.50/1 GArdetto's Snack Mix
$2/1 Bio True lense solution (print now for moneymaker deal at Walgreens starting on 8/8)
Red Plum  <– Click to print
$1/1 L.A. Looks (free at Rite aid this week after coupon and Single Check Rebate)
$1/1 Polident
$1/1 Rimmel product
$1/2 Temptations cat treats
Smartsource  <– Click to print
$1/1 any Clean and Clear (makes trial size FREE at Target and CVS)
$2.50/3 Huggies wipes
$4/2 Huggies Little Movers
$1/1 Buddig Deli cuts
$1/1 Nakano Rice Vinegar
Looking for more printable coupons? Don't forget to search my Coupon Database.