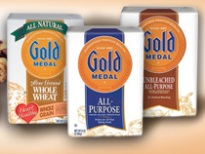 Baking season is pretty much here and you can expect coupons for baking items to start to show up in your Sunday inserts and as printable coupons.  Here's a great coupon to show up: $0.50/1  Gold Medal Flour.  This would make for cheap flour paired with a good sale.
Here are some more hot printable coupons:
Save $1 off one can High Fiber Progresso Soup (keep refreshing until you see Progresso ad on side)
Save $1 off Pepperidge Farm Crackers (IE Link) or (FF Link)
Save$3 Off Kroger Comfort Diapers
Save $1 off one Pillsbury Grands! Frozen biscuits (IE Link) or (Ff Link)
Thanks Money Saving Mom!