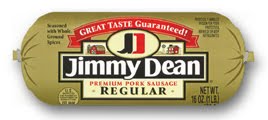 Become a fan of Jimmy Dean on Facebook and you will have access to print a coupon for $1 off any Jimmy Dean Product.  Ths offer is available while supplies last.  Thanks KC Penny Pinching Mama.
Here are some more printable coupons:
Save $3 off Rayovac Batteries (4-8 ct) when you become a Fan of Rayovac on Facebook
Save $1 off Morningstar Products (IE Link) (FF Link)
Save $1 off Chinet Crystal Cups or Plates (IE Link) (FF Link)
Save $1 off Sara Lee Frozen desserts. Thanks Free Snatcher!
You can access the following coupons for Gold N plump chicken here:
Save $1.00 On Deli Fresh Rotisserie Chicken
Save $0.55 on any (1) Package of Gold'N  Plump® Recipe Ready™ Ground Chicken
Thanks Karen!