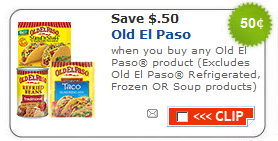 There are tons of great new coupons today, but check out these ones you will find using zipcode 77477.  Remember that to change the zipcode you know have to click on "Local Coupons" you will find the field to change the zipcode there.  Then head back to the "Coupons" tab to find these:
50¢/2 packages of NESTLÉ® TOLL HOUSE® Morsels
$4.00 OFF one 16oz Starbucks® Ice Cream pint and 2 bags of coffee (20oz) (AVAILABLE AT TARGET)
The Old El Paso makes for free or cheap taco seasoning. Or use it to get some cheap refried beans.