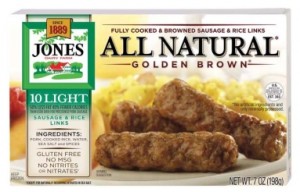 There are even more printable coupons available to you.  If you are still looking for more Oscar Mayer Lunchable coupons, the coupon is now available on Coupons.com as well.  I also found there a coupons for $1 off one Jones Sausage.  The sausage links go on sale often at my local grocery store 10/$10.  They would be free after this coupon.  I think that at Walmart they are not more than $1.50, but can't recall exactly right now.  Here's the latest round up:
$1 off any package Jones Sausage
$1 off two Oscar Mayer Deli Creations
$1 off two Campbell's cooking soups (IE Link) or (FF Link)  (this is a new link and would go great with Catalina promotion going on at acme and Albertson's)
$1 off McCormick Seasonings (IE Link) or (FF Link) (different link from one available on Coupons.com)
Buy one get one free Dentyne Gum (Gum often goes on sale buy one get one free at Walgreens.  This may make it free after coupon)
Looking for more printable coupons?  Don't forget to search my Coupon category.  This is easy to do by using the search bar located right at the top of my blog.  Also, you will always find printable coupons available on the following websites:  Coupons.com, Red Plum and Smartsource.