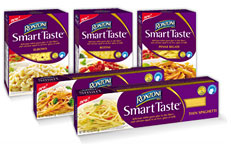 There are quite a few new pirintable coupons available to help you save money on food items:
Save $1 off two Ronzoni Smart Taste Pasta (my store put these often on sale BOGO or 2/$1.69)
Save $1 off Ronzoni Healthy Harvest Pasta
Save $0.75/1 No Yolks Pasta or Wacky Mac Pasta
Save $1 off two Classico Pasta Sauce
Save$0.50/1 Hostess Snack Family Size
Save $0.50/1 aunt Millie's Loaf of Bread
Save $0.55/1 Kelloggs Poptart Gingerbread pastries (IE Link) (FF Link)
Looking for more printable coupons? Don't forget to search my Coupon category. This is easy to do by using the search bar located right at the top of my blog. Also, you will always find printable coupons available on the following websites: Coupons.com, Red Plum and Smartsource.