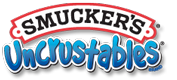 The printable coupon for $0.50 off one can of Ro-tel seems has reset.  if you printed it before, you should be able to print again.  Thanks Thrifty Jenny!
Here are other hot printable coupons you may want to know about:
Save $1 off Smuckers Uncrustables (the 4ct box sells for around $2 at Walmart)
Save $2 off Healthy Choice Meals (this one has reset as well)  Thanks Clipping Makes Cents!
Save $0.75 Little Debbie Chocolate cupcakes
Save $0.75 Nature's Price Loaf of Bread
Save $1 off two Dozen Horizon Organic Eggs
Visit the Hood Website to access the following printable coupons:
$1.00 off Cream Products: 16oz
$0.50 off Cottage Cheese
$0.50 off Sour Cream
$0.50 off Country Creamer
$0.50 off Choc. Milk
$1.00 off Premium Ice-Cream 1.5qt
$0.50 off Eggnog  (yum!)  Thanks Mojo Savings!