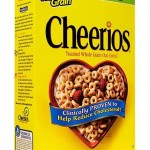 Did you sign up for a coupon for a free box of Cheerios cereal?  It's never too late.  As part of that promotions Cheerios cereal is also releasing a series of printable coupons for cereal.  Here's the first one:  Save $1 off one box of Cheerios Cereal printable coupon.  Thanks Frugal Find!
Here are other hot printable coupons:
Save $1 off one box of Toaster strudel printable coupon (IE Link) (FF Link).  This coupon should make toaster strudels at least 50% off, hopefully more.  Thanks Deal Seeking Mom!
Save $.55 Hillshire Farm® on any (1) variety of Hillshire Farm® Cocktail Links
Save $1.00 on any 2 Pillsbury® Easy Frost™ No Fuss Frostings or Pillsbury® Brownie Minis™ Brownie Mixes
Save $2 off Dryel printable coupon. Thanks Cutting Coupons in KC!
Happy Savings!