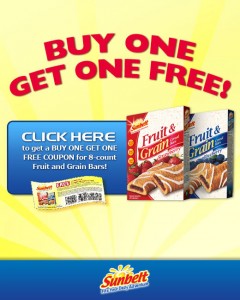 Like Sunbelt Granola on Facebook and print a BOGO coupon for 8 ct boxes of Sunbelt Fruit & Grain Bars!  Pair this with a sale and these great snacks will be very inexpensive!
Other coupons available now:
$1/2 bags of Kettle Brand Potato Chips (5 oz or larger)
$1/1 any Dean's Pretzel Dip 12 oz
$1/2 Skittles, Starburst, or Lifesavers Fun Size Bags
$1/1 box of Kashi GOLEAN Crisp Cereal
$1/1 Package of Butterball Turkey Bacon (reset for me)
$1/1 any TRESemme Fresh Start Product IE Link (FF Link)
$1/1 any Rayovac Alkaline Batteries (Facebook)
$3/1 any Rayovac Rechargeable Batteries or Charger (Facebook)
$5/1 any Scott's Turf Builder EZ Seed Purchase
$1/1 The Entire Stock of Hanes for the Whole Family IE Link (FF Link) (Family Dollar Coupon)
Thanks, Printable Coupons and Deals!
Plus, print over $10 in Nestle Coupons here including Nestle, Juicy Juice, Stouffers, Ovaltine, Carnation, Wonka and More! Thanks, Clever Couponing!