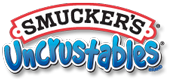 Coupons.com has quite a few new coupons I would like to share with you. First, save $1 off 1 box of Smucker's® Uncrustables® Sandwiches with a new printable coupon. The 4ct box sells for $2 at Walmart.
Here are other coupons available:
$1/1 Folgers® Black Silk coffee
$1/2 Smucker's® Sugar Free or Low Sugar™ Jams, Jellies or Preserves
$1/2 boxes of Kashi® TLC® Bars
$1/2 Hillshire Farm Hearty Slices Lunchmeats
$1/1 Polaner® Sugar Free with Fiber Preserves & Jellies
It is also almost the end of the months which means Coupons.com is getting ready to reset, remove and add new coupons. So print any coupons you want to have now before they are possibly gone.
Looking for more printable coupons? Don't forget to search my Coupon category. This is easy to do by using the search bar located right at the top of my blog. Also, you will always find printable coupons available on the following websites: Coupons.com, Red Plum and Smartsource.