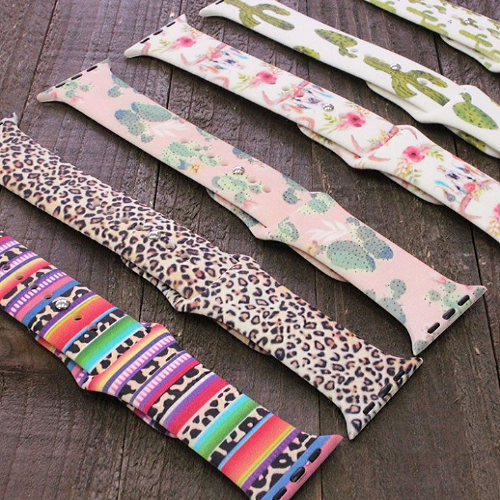 So many options!! I love it! Grab one of these super cute Printed Silicone Bands for Only $8.99! (Reg. $50.99). It fits very comfortable, especially during any physical activity. It has a pin-and-tuck closure, which ensures a clean fit!
Two size 38mm and 42mm, choose the size match your apple watch's case size.
Details:
~Comfortable and durable.
~Easy and direct installation and one button removal.
~An innovative pin-and-tuck closure ensures a clean fit.
~Precise multiple holes design, let you adjust to the suitable length, suitable for most people.
~Apple Watch is not included.Made of high quality silicone rubber, light weight and comfortable.
Fits:
~Series 1
~Series 2
~Series 3
~Series 4
IMPORTANT:
~Our bands are larger than the small original Apple Watch Bands.
~Please see above for exact measurements of our Silicone Bands.
~Daily wear and excessive use of these bands is not recommended.
~Light use of our fashion bands for special occasions is ideal.
~Please note these bands are not active bands and are not water resistant.
~Rubbing and exposure to large amounts of water (i.e. washing dishes, sweating during exercise, etc.) will cause some of the print to come off over time.
~Band Designs – Numbers 22-28 – Please note we have added images to reflect the different possible variations regarding the placement of the design on our bands. Customer satisfaction is our number 1 priority and we will do our best to provide our customers with the design they order