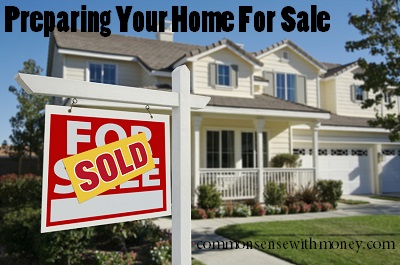 You just decided to list your home for sale. Congratulations! Not only do you have a lot of work ahead of you with the preparing your home for sale, maintaining it is just as much work. Here's a few simple steps to take to get your home ready for sale and looking it's best.
Start at the Curb – We've all heard the term "curb appeal". The first time a potential buyer sees your home they are looking at the outside of your home. Make your home look as inviting and maintenance free as possible.
To spruce up your curb appeal weed flower beds, plant fresh flowers, lay down fresh mulch, prune any over grown trees, paint the front door and shutters and pressure wash the outside of the house. If the front of your home is inviting you will watch them buyers pour in.
So Fresh, So Clean – Make your home as fresh and clean as possible. Do the walls have old paint that's peeling or holes in areas? Does the paint color in the home make it dark and uninviting?
Make the home as clean and fresh looking as possible. Paint the walls a neutral color to make the house show well. Dust the ceiling fans, scrub the baseboards, replace burned out light bulbs, deep clean the bathrooms and kitchen and steam clean the carpets. If you have a pet that has urinated on the carpets you may even consider replacing them if that's within your means.
Pack Away Clutter and Personables – Packing away your clutter and personables is often the toughest challenge when preparing your home for sale. But, doing so will often sell your home quicker.
Buyers can't picture their families in your home with your family photos hanging throughout the home, your huge collections on display and clutter on the counter tops. Instead clear these items to make the home open and more inviting. After all, it'll be one less thing you will have to pack when your home sells. You are moving for a reason and keep that reason in mind!
Remove Your Keepsakes – When buyers are in your home they like to look around. If you have your Grandmother's antique crystal chandelier hanging in your dining room, now is the time to remove it. Anything the buy sees in the home they are going to assume is theirs.
If you don't want the new homeowner to have it, pack it away. This includes any window coverings, ceiling fans, custom closets, etc. These are items that are typical to stay within the home, but, if the potential buyer doesn't see it at their showing it's not included.
 Store Large Pieces – Do you have a dining room table that seats 12 and is tight fitting in the dining room? Perhaps you have an oversized chair that takes up a lot of room in the living room or just a lot of furniture in general. When you downsize the amount, or size, of furniture in the house it will make the home appear larger and spacious.
Give the buyers the opportunity to see their belongings in your space. By clearing out as much as you possibly can and arranging the furniture to highlight the feature areas in your home the buyer is able to see why you fell in love with your home. It's your job as the seller to highlight these areas of your home. For instance, if you have a beautiful view out the back of the home move the furniture that blocks that view and highlight it by setting your furniture pieces facing toward the view. Maybe you have a gorgeous fireplace that should be the focal point of the room. Rearrange your furniture around the fireplace and then make sure it's cleaned and functioning properly.
Now that you have prepared your home for sale to the best of your ability take a fresh look at it. Go in the front door as if you are the buyer. Go around the home on your showing and jot down your thoughts in each room. Make those small adjustments and call the realtor! You are now able to list your home with confidence!
Good luck with your sale and let us know how these tips helped you to prepare your home for sale.
On a personal note, my helper Kara's house sold in 10 days using these tips!  Good Luck!  Do you have any tips that worked for you?