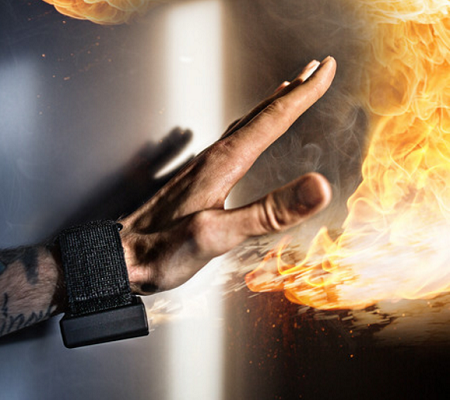 This is one of the craziest/neatest/weirdest/I don't even know what to say products I think I've ever seen! USB rechargeable, the Pyro Mini can shoot up to 600 fireballs on a single charge, and power up from your laptop or car charger, so you're always ready to turn up the heat, whether you're playing a gig, performing a magic act, or just shooting off fireballs for fun. The Pyro Mini even includes the Burst Fire feature, so you have the option to hold the trigger down for a few extra seconds, and shoot 2 fireballs at the same time. And, by plugging the antenna into the included remote, you can even practice this new trick from up to 30 feet away.
You can pick up the Pyro Mini from Touch of Modern for $109.99 + $15.00 shipping.
You have to check out this video of the Pyro Mini in action:

Every precaution has been taken to make the Pyro Mini safe, but as it shoots real fire, it MUST be handled responsibly. A comprehensive video download is provided with your purchase to guide you through everything you need to know. Thousands upon thousands of units of Pyro have been sold with superb, safe results.
— THIS PRODUCT IS INFLAMMABLE
— NOT FOR USE BY MINORS
— USERS MUST READ THE USERS' MANUAL BEFORE USING THE PRODUCT
— USERS MUST FOLLOW THE MANUFACTURER'S INSTRUCTIONS ON HOW TO USE THE PRODUCT SAFELY