Okay, so it wasn't a fantastic Extreme Couponing trip, but it was only a quick trip to pick up a few things. I haven't been to Walmart to use coupons in quite a while, since my local Walmart isn't exactly what you would call "coupon friendly".
I had a few coupons that I had stashed in my wallet, so I figured while I was there I'd grab a couple of things and use up my coupons before they expired. Surprisingly, not one of my coupons beeped like they usually do! Hurray!
Here's my mini haul: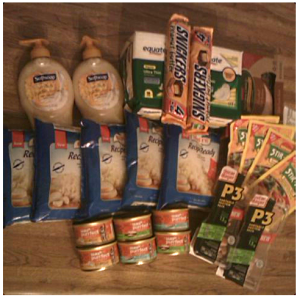 So, here's what I got…
2 Milk and Honey Softsoap hand soaps $.98 each on Rollback
– $1/2 Softsoap Liquid Hand Soap Pump, 7.5 oz or Larger (2/23/14 SS – Exp. 03/15/14)
Final Price: $.96 for two ($.48 each)
2 Equate Pads $1.97 each
– (2) $1.00 off any Equate Pad or Pantiliner Product
Final Price: $.97 each (I could have used these to get FREE pantiliners, but I'm pretty well stocked up there!)
2 Snickers peanut butter squares $1 each (For the kids, of course…)
– (1) $0.75 off (2) SNICKERS Brand Peanut Butter
Final Price: $1.25 for two four square bars ($.63 each)
1 Hormel Natural Choice lunchmeat $2.50 on Rollback
– (1) $1/1 Hormel Natural Choice lunchmeat (1/5/14 SS – Expires 3/3/14 TODAY)
Final Price: $$1.50
5 Bird's Eye Recipe Ready chopped onions $1 each
– (3) $1/1 ANY Birds Eye Recipe Ready product (2 from 1/12/14 SS insert and 1 printable that's NLA)
– (2) Save 75¢ off 1 Birds Eye® Recipe Ready item
Final Price: $.50 for five ($.10 each) (These come in REALLY handy for making quick dinners and as additions to Chili.)

4 Sun-Bird seasoning packets $.78 each (LOVE these!)
– (2) $.55/2 SUN-Bird seasoning coupon (Was from Coupons.com, but NLA.)
Final Price: $2.02 for four ($.51 each)
2 Oscar Mayer P# Protein Packs $1 each
– (2) $0.75 off OSCAR MAYER P3 PORTABLE PROTEIN PACk
Final Price: $.50 for two ($.25 each)
6 Iams Purrfect Delights Cat Food 3 oz Cans $0.58 each
– (2) $2/3 Wet Iams Cat Food (Was from Coupons.com, but NLA. BOO!!)
Final Price: $.52 Money maker!!
Not a huge coupon haul by any means, but it was just a quick stop with little to no planning. A couple of the coupons I wanted to use before they expired, and I definitely wanted to grab some more cat food, lest the Fat Little Furrball scratch my eyes out in the middle of the night…
I'm definitely planning a little more involved and lucrative shopping trip to my local Tops Markets later this week. It's Dollar Doubler week, and this is the last week that I can accumulate GasPoints, so it's a must!