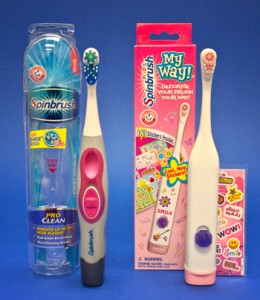 There are a couple of warning and recall by the FDA that I thought you ought to know about:
Warning on Arm & Hammer Spinbrush:  The FDA has warned the public about using Arm& Hammer Spinbrush toothbrushes as they can cause chips on teeth or chocking.  The FDA warns on potential for injury while using the following models of Spinbrush:
Spinbrush ProClean
Spinbrush ProClean Recharge
Spinbrush Pro Whitening
Spinbrush SONIC
Spinbrush SONIC Recharge
Spinbrush Swirl
Spinbrush Classic Clean
Spinbrush For Kids
Spinbrush Replacement Heads
McNeil Consumer Healthcare Division has voluntarily recalled over half million bottles of infant tylenol.  This recall is the result of difficulty using the Infants' TYLENOL® SimpleMeasure™ dosing system.  The system includes a dosing syringe, which is inserted into a protective cover at the top of the bottle to measure the proper dose. In some cases the cover, known as a flow restrictor, was pushed into the bottle.   You can find lot numbers included in this recall as well as information as to how about getting a refund for your purchase here.