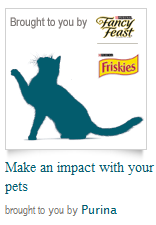 There is  a new "Learn and Earn" activity on Recycle Bank.  Login or sign up for a Recycle Bank account, then click on "Earn Points."  When you complete the new learning activity brought to you by Purina you get 25 points.
You can use these points and redeem them towards the following rewards: two free cans of Fancy Feast or Friskies Wet Cat Food for just 35 points per reward.  Click on featured rewards to find these offers.
Note: some of you have had problems getting the Recycle bank website to "load."  I think this has to do with teh site web design being incompatible with the web browser you use.  Try using another web browser if all you are getting is a blank page.
Thanks, Money Saving Mom!