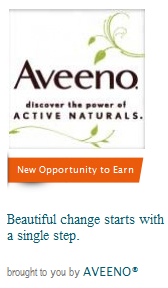 You can earn 95 FREE points on Recycle Bank right now.  There are a couple of new opportunities available, here is how to get them:
The first opportunity available is  from Aveeno Active Naturals and you can earn up to 50 points for taking pledges on their Facebook Page.
The second opportunity is through the Green your Home Challenge.  They have added more areas to the house to explore and earn an extra 45 points.
That should give you up to 95 points.  If you don't see anything on the rewards catalog, I suggest banking these free points and they will come in handy soon.  I just saw that they have a $1/1 Honest Tea coupon for only 10 points. This is a print at home reward. This coupon should get you free Honest tea, as it often goes on sale for $1. hit the back button to print the coupon two times.
You can also earn points by referring friends.  feel free to leave your referral link in the comments section of this post.
Thanks, Money Saving Madness!