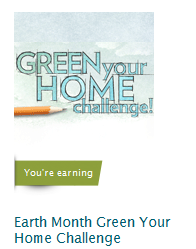 It's Earth Month and I have a good feeling that Recycle Bank is cranking up some great promotions this month.  There are many ways to rack up free points to redeem for free rewards.  Bank these points now while you can.
To get free points follow these steps:
The first opportunity available is  from Aveeno Active Naturals and you can earn up to 50 points for taking pledges on their Facebook Page.
The second opportunity is through the Green your Home Challenge.  They have added more areas to the house to explore and earn an extra 25 points.  If you have not done this yet, you can get a lot of points then.
You can then use these free points you have banked to redeem for high value coupons and hot rewards.  Visit the Rewards tab where you can get a coupon for $1/1 Honest Tea for just 30 points.  This is a print at home coupon.  These teas sell for around $1, so you are looking at free tea.  Or you can hold out for when they reduce the amount of points needed on any of the other rewards offered to get a good deal.