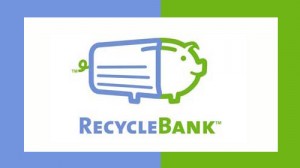 Here's a very interesting offer to reward you for your green efforts.  Recycle Bank is a program where you can earn points by recycling items curbside or by recycling electronics or other reusable items in your community.
Curbside Recycling
In the curbside program, your Recycle Bank cart will be weighed each week upon pick-up. The weight will then be translated to RecycleBank Points. The more you recycle, the more your household can earn. Unfortunately curbside recycling is only open to certain states: Colorado, Connecticut, Kansas, Massachusetts, Minnesota, Nebraska, North Carolina, Ohio, Pennsylvania, South Dakota, Tennesse and Virginia.
Recycling Electronics
Anyone can recycle their old cellphones, laptops and MP3 players with Gazelle and Flipswap.  Just mail your old electronics and get Recycle Bank points as a reward.
Recycling Reusable Items in Your Community
If you are familiar with Freecycle, you will enjoy getting points for giving away items you no longer need but could be of use to someone else via Recycle Bank and Kashless.  Just post your items and get rewarded for doing so.  All you need to find is the Kashless community nearest you.
Get Rewards With Your Points
Sign up for Recycle Bank (and anyone can sign up) and you will be instantly rewarded 100 points just by doing so.  You can redeem these 100 points for some of the following rewards:
A coupon for $5 off Huggies diapers will cost you 50 points (so order two!)
A coupon for free Happy Baby Food will cost you 50 points too and there are a lot of choices.
A free Cleanwell product will cost you 100 points
A coupon for $2 off Cascadian Farms products will cost you 20 points and
A coupon for $1 off coke product will cost you 10 points
Plus there are lots more high value grocery coupons available as rewards.  I highly encourage you to sign up for Recycle Bank and start accumulating points.  I will also keep updating you on any promotional codes that become available that can get you free points.
Thanks Surviving the Stores!