Recyclebank is offering a new point earning opportunity.  Earn 30 more points with the Dove.  Learn About Recycling in the Bathroom opportunity. Pledge to use a non-vinyl shower curtain to get 5 more points.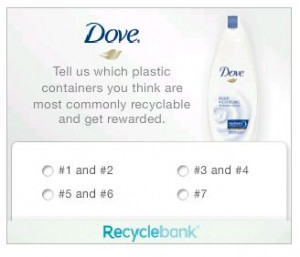 Then look for a banner on the side of the page that looks like the one above to get 5 more points.
Here's how to get started:
Register or Login to Recyclebank
Earn Points Tab
Scroll to Dove
You'll take a short quiz, take the pledge, then click on the banner to get more points.
If you're new to Recycle Bank be sure to sign up for a Free account here first.  Be sure to look around at all new and reset point opportunities to earn more points!
Don't forget that by accumulating these free Recyclebank points you can get access to some nice high value printable coupons and other rewards.