Woo HOO!! The FREE roses from 1800Flowers are back! If you weren't able to get this last time, drop what you're doing and hurry over to 1800Flowers.com to get a free bouquet of a dozen red roses, a $34.99 value, sent to someone special this week! You'll have to checkout with V.me and use the promo code FREEROSE.
There's a very limited supply of these, so act fast!
You'll have to pay a delivery charge, which cost me $14.99, and tax. You can also opt to upgrade your order and includes vase and chocolates as well! I upgraded and got a clear vase for Mama, and it cost an extra $10…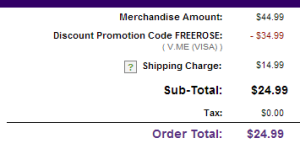 You'll have to checkout with a V.me account and use the code FREEROSE at checkout for the discount. To check out with V.me, just click on the V.me logo under the normal checkout button and enter your username and password. Setting up a V.me account is super simple and fast too. It only took me a couple minutes. Just enter your info and add a credit or debit card.