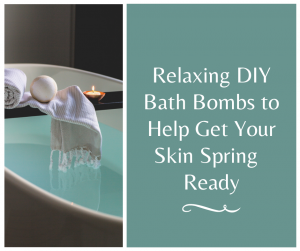 Well, it's been a bit over a year and for the most part we are all still mostly staying home that we are supposed to, but you know what? It's spring!! I may still be doing my part to stay home and stay healthy, but mama wants to go outside and now that the sun is starting to make an appearance, I am ready to reintroduce my skin to the sun. Even if it is just in my backyard. 
I will say this though, after a year of laziness (okay, it wasn't all lazy) and coming out of what seemed like the longest winter ever, I need to do a little DIY beauty work to be comfortable showing off my skin again. That may seem scandalous, but I barely wear capris and tanks in public…it's not that much skin. My skin right now is dry and just overall blah, so it's time to break out some DIY beauty tricks! Starting with some serious soaking in these awesome, moisturizing and relaxing DIY Bath Bombs. 
Relaxing DIY Bath Bombs to Help Get Your Skin Spring
Ready
Bath bombs became super popular a couple of years ago and they just aren't going away, my friends. They are a wonderful way to treat yourself. Here are some fun ones. 
I have made these several times now for myself and for friends and family and everyone just loves them!  
I know that these say decongestant bath bombs, but I absolutely love the feeling that my skin is left with after using these bath bombs. I feel refreshed and energized. Plus, it's just good for you! 
I love avocados. Like seriously. I enjoyed them for breakfast and in my afternoon smoothie and hey…they are great for your skin too! Who knew?
Well, what do you think? Are you (and your skin) ready to head outside and get some sun?
Do you have any DIY Bath Bomb or DIY Beauty product that you have found useful to use on your skin?