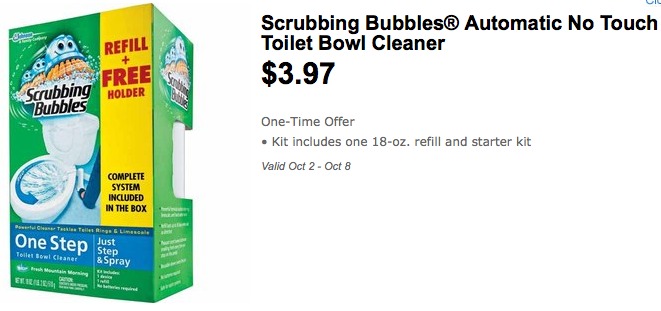 I just wanted to remind you about this deal that starts at Walmart today:
Scrubbing Bubbles One Step Toilet Bowl Cleaner $3.97
Use $4/1 Scrubbing Bubbles One Step Cleaning Kits
Use $3/1 Scrubbing Bubbles Toilet Bowl Starter Kit
As low as FREE after coupon
I had suggested before that you may be able to price match this at Target. But I was just reading the Target Price Match policy and the exclusions list: "Items advertised as limited time/limited supply/limited quantity." I think cashiers will argue this includes this "One Time Offer."
But since this offer is advertised in the Walmart Ad, you may be able to get a Rain Check at Walmart. In all honesty, I have never tried to get a raincheck at Walmart. but from what I read, you may be able to get one on advertised offers. I guess my advise is to ASK your cashier or customer service, Just say you wanted to buy this product and they are all out. How can they help you? Can they offer a raincheck? You may have to elevate the question to a supervisor as they may be more knowledgeable.  Good luck!