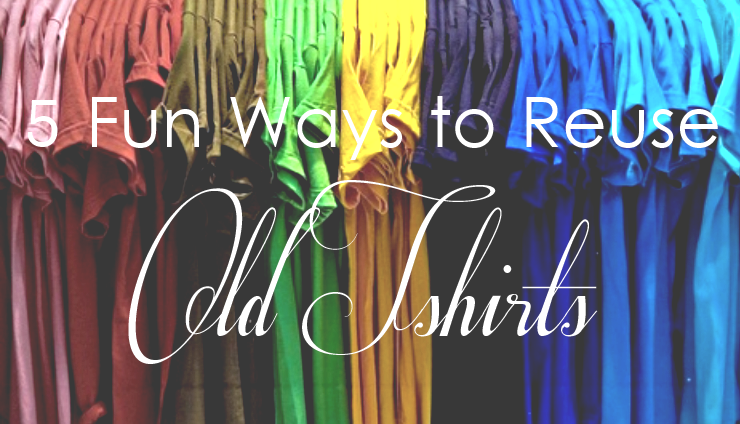 Old tshirts have a way of just piling up as they become too small, faded, or just plain ratty. I hate just throwing out old tshirts, so I have a nice little stash going right now. Some of them are just old plain tshirts, while others have some sentimental value. I could reuse old tshirts and make a bunch of rags, but that's just no fun, now is it?
I've been looking for ideas to help me reuse old tshirts that I have in storage. Fortunately, the Internet is just chock full of great ideas! After browsing Pinterest, I've come up with a nice long list of how to reuse old tshirts for fun stuff, not rags.
Here are some of my favorites…
1. Bracelets
There are tons of different ways you can reuse old tshirts to make bracelets. You can braid strips of tshirts, weave strips of tshirts, or even wrap a long strip of tsirt around a plastic or metal bangle. You can even thread some beads on a long strip of tshirt and wrap it around your wrist for a wrap bracelet. Tshirt bracelets are stylish, environmentally friendly, and simple to make.
2. Tote Bags
One of the ways to reuse old tshirts that really intrigued me were the tshirt tote bags. These could be great for shopping trips, and they're much more environmentally friendly than the plastic bags you get at the store. They seem so easy to make too! Just cut off the sleeves and neck, and sew up the bottom. The shoulders of the shirt could be the handles, or you could use wide ribbon or strips of fabric.
3. Pillows
The would be a great way to reuse old tshirts that held some sort of sentimental value, such as old concert tshirts. All you'd need to do to make a tshirt pillow would be to cut the top of the shirt off, sew it up, stuff it, and sew up the bottow. You could even reuse old tshirts to make no-sew fringe pillows. Just cut off the top, cut some fringe at the top, bottom, and sides and tie the fringe together.
4. Quilts
If you're really feeling froggie and have a little time on your hands, you could reuse old tshirts to make a quilt. Again, this would be a great way to reuse old tshirts with some sentimental value. You could cut the fronts off of the tshirts into squares and sew the squares together. You'd then have to add a back and a sheet of quilt batting.
5. Rugs
Tshirt rugs are a great way to reuse old tshirts, especially since rugs are usually rather expensive. There are a few different ways to reuse old tshirts to make rugs. You can make braided tshirt rugs or a latch hook rug. Tshirt rugs are soft, thick, fluffy, and absorbant, making them perfect for kitchens and bathrooms. They're also machine washable, and you can put them in the dryer. I think I just talked myself into reusing all of those old tshirts to make a rug or two!
What about you? What's your favorite idea to reuse old tshirts?