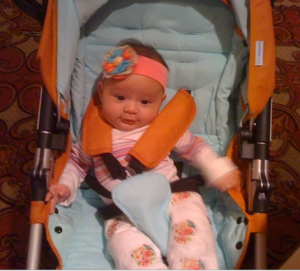 How cute is that ?  Super cute, right? I am sorry, I know I am very biased.  But that's my little one, Tali, rocking some cute fashion choices when she came with me to Blissdom conference in Nashville, TN back in February.
Traveling with an infant (and Tali was only 4 months) can be very challenging.  I was very apprehensive about the whole trip and about how we would do while there.  While planning for our trip there I realized that I didn't have a stroller to use with Tali.  The stroller I had for my two boys was very much used and abused by them.
Bumbleride was gentle enough to offer to send one of their Bumbleride Indie 2010 strollers for me to check out and for my Tali to stroll in style while at Blissdom.
So what did I think about this stroller?
Easy to assemble: how do I know this?  Because *I* was able to put it together!  I never have the patience to read instructions or dexterity to put anything together but I put this one together and it was easy.  My husband is so proud!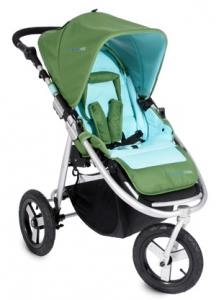 My favorite stroller features: One button harness makes it easier for moms to take out or snap in the baby.  Adjusting the backrest after baby takes a nap is easy and smooth and all it takes is pushing down the adjuster. My husband and I are stoked about the large storage basket underneath the stroller.  We carry stuff for three kids and it all fits happily in there.  The stroller is also very easy to maneuver even with one hand which is something that I have to do often as there's always another child's hand to hold.  Finally, my husband was very happy with the inflatable tires and suspension system that make for a very smooth ride.
Lightweight:  Built on an aluminum frame, despite the look this stroller weighs 20lbs.  It folds up easily too, and it fits in the trunk of a car with no problem.
At $450 this is not a cheap stroller by any means.  But I believe that at times there are other elements to consider.  When I was looking for a new stroller for Tali I asked many other moms and a lot of them mentioned having more that one stroller.  That's not me.  I was looking to make a one time investment and get a quality stroller that would satisfy my needs.  I also believe that the definition of value is personal, so what may work for my family may not work the same for you.  You can, however, still get a good deal on this stroller by shopping around and see which one of their dealers is offering a promotion at the time you decide to make a purchase.
Win It!
If you like what you see, Bumbleride has been gentle enough to offer one Bumbleride stroller to one of my readers.  If you would like to participate in this giveaway, this is what you need to do:
Leave me a comment sharing what features or functions do you find most important in a all terrain/urban/ light jogging stroller?
For additional entries you can:
Become a Facebook fan of Bumbleride and share the following with your friends:  "I just entered to win a Bumbleride Indie Stroller click here to enter too https://bit.ly/cOq7LZ "
Follow Bumbleride on Twitter and share the following:  "I just entered to win a @Bumbleride Indie Stroller click here to enter too https://bit.ly/cOq7LZ via @commnsensemoney"
This way you can earn up to three entries. Just please remember to come back and leave me a separate comment for each additional action you have taken (leave comment, share on Twitter, share on Facebook, etc).
If you are reading this entry via email updates or via RSS reader please CLICK HERE to visit my blog to enter. Emailing me is not a valid entry for this giveaway. This giveaway is open to residents of the United States and Canada only. Please enter only if you are 18 years or older. This giveaway ends on 4/4/2010 at 5PM CST. At that time I will close the giveaway and select one winner randomly.
Thanks to Bumbleride for offering to send a sample of their Indie stroller for me to checkout and one for one of my readers to win.  This post reflects my thoughts about this product and has not been edited in any way by Bumbleride.