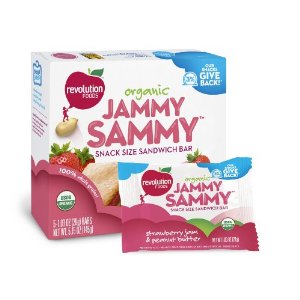 Right now you can get a great deal on Revolution Foods Organic Jammy Sammy Snack Size Sandwich Bar, Apple Cinnamon & Oatmeal, 5-Count Sandwich Bars (Pack of 5)
. You can get up to 45% off when you combine the 15% Subscribe and Save discount with the 30% off discount provided by the coupon code PLUMOR33 (use at checkout).  If you buy the Strawberry jelly and Peanut butter type you get five boxes for only $7.57 shipped.  The Apple and Cinnamon Oatmeal comes to $9.05 shipped.  I bought some of the Strawberry jelly type to add to my son's lunch bag.
Another good deal available, although a bit more, are these Late July Organic Mini Peanut Butter Bite Size Sandwich Crackers, 1.125-Ounce Pouches in 8-Count Boxes (Pack of 4)
for $20.82 after subscribe and save discount.
If after you receive your order you decide not to continue with scheduled deliveries, you can cancel your Amazon Subscriptions at any time by going to your Amazon account and clicking on "Manage Subscribe and Save Items".
Thanks, She Saved!