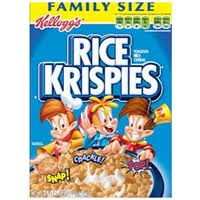 Just in case you haven't hear the makers of the cereal Rice Krispies have settles a lawsuit against them for some nutritional claims they made about this cereal.  If you purchase Rice Krispies or Choco Krispies between June 1st, 2009 and March 1st, 2010, you are entitled to receive up $15 in compensation for buying up to 3 boxes as part of this class action lawsuit settlement.
Just as a reminder to my long time readers.  back in the Fall of 2009 Vocalpoint offered a free box and Rice Krispies coupons. I actually got these coupons and also bought the cereal with those coupons, so I filled out my claim here.
Thanks, Swaggrabber!