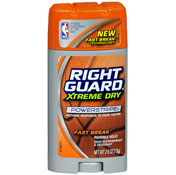 Yeah!  I am so excited to read about this deal on HCW this morning.  If you printed the coupon for FREE Right Guard Fast Break deodorant I posted about a week ago, I have great news for you.  This type IS generating a $2 Register reward at Walgreens this week.  So, if you have your coupon you will pay just tax out of pocket and get a $2 register reward back.
I am so stocked!  I've been hanging on to my two coupons waiting for a good deal.  These went really fast so if you didn't get to print the coupon, I also have good news for you.  You can use this $1/1 printable coupon to get it for FREE.
Happy Sunday!!  It's a beautiful day here in Wisconsin and I am on my way down to Milwaukee to enjoy it.  I hope you have a great day too!