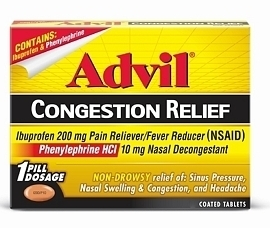 Well, here is a deal that may come in handy these days.  You can get better than free Advil at Rite aid with the following deal:
Advil Congestion Relief, $4.99y One and Get a $3 +UP Rewards
Use $2/1 Advil Migrane, PM, Children's, or Congestion or $1/1 from 11/14/2010 RP Insert (exp 12/31/2010)
Stack with $1/1 Advil Cold and Sinus and Advil Congestion Relief Rite Aid Video Values
Pay $1.99 out of pocket and get back one $3 +UP Reward plus one $1 "mystery" +UP reward
Submit for $1 Single Check Rebate
It's like getting it free plus getting paid $3 to buy this.
Thanks Coupon Connections!