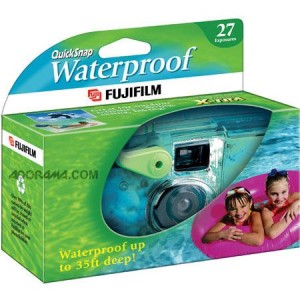 UPDATE: It looks like this is only printing a $3 +Up Reward now.  So the deal is dead?
Yesterday I told you about the great Carmex Healthcare items moneymaker and here is another great Rite Aid deal with no coupons required!  Fujifilm Quicksnap Waterproof Disposable Cameras are on sale this week for $7.99 (down from $17.99).  They may still be marked at the regular price so verify before you buy.  When you buy one you'll receive not only the $3.00 weekly +Up Reward but also a $5.00 Monthly +Up Reward as well making this camera FREE after rewards – no coupons required!
FujiFilm Quicksnap Waterproof Disposable Camera – $7.99 (Reg $17.99)
UPC Code 7410101407
Pay $7.99
Get back $3.00 +Up Rewards – weekly reward limit 2
Get back $5.00 +Up Rewards – monthly reward limit 2
That's FREE after rewards!  What a great little freebie to add to your stash or take on vacation!
Check out all the best Rite Aid deals here.
Thanks Frugal Living and Having Fun