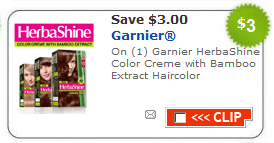 This week there is a UP+ rewards offer available on Garnier Hair products: Buy $15 in select products and get $5 +UP rewards back. There is a new printable coupon plus there is also a video value coupons available that make for a moneymaker deal on those. Here is your deal:
Buy three Garnier Herbashine Hair products $5.99
Buy one Boudreaux's Butt Paste, $3.99
Buy one Pantene Restore Beautiful Lengths, $4
Use one $5/$25 Rite Aid coupon on Red Plum or video values
Use three $3/1 Garnier Herbashine coupons
Use $2/1 Pantene Restore Beautiful Lengths Product 8/29/2010 P&G Insert (exp 9/30/2010)
Use $2/1 Boudreaux's Product, any 4/11/2010 SS Insert (exp 12/31/2010) or 1/1 from 829 SS insert
Use one $2/1 Garnier hair color video values coupon
Use one $3/1 Boudreaux's Butt Paste Sept Video Values coupon
Pay $2.96 plus tax out ogf pocket and get back: one $5 +UP rewards for the Garnier and one $2 +UP reward for the Pantene
Sweet deal!!  Do you have any other scenario ideas Rite Aid shoppers?  Make sure to leave your scenarios in the comments section.