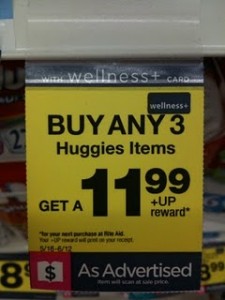 Check out this find by reader Crystal and Mary over at Stylish Savings. Mary found the following Huggies offer tagged at her local Rite Aid:  Buy any three Huggies items and get back a $11.99 reward.  The reward is in the way of a checkout coupon good on the purchase of any non-prescription item at Rite Aid.  This is the deal Mary did:
Buy three packs of Huggies diapers $8.99
Use one $5/25 Rite aid coupon
Use three $3/1 Huggies diaper printable coupons
Pay $12.97 plus tax out of pocket and at check out she got the coupon for $11.99 next next purchase.
So, what did she do? she bought three more packs of diapers, used her coupon and another $11.99 coupon printed.  It rolled!  So this deal is so hot that I grabbed my keys to check it out myself and it did NOT work for me.  But it has worked for Mary who lives in NY state and for Crystal who left me a comment about this yesterday.  We are trying to find more info about this offer and where it is being offered.  If you have found this offer at your store, please make sure to leave a comment telling us where you are located.
Oh, and in case you missed it the tag says this offer is good until 6/12.  But the diapers are on sale this week.
Update: So far reported working in Albany, NY and Asheboro, NC
Update #2:  It seems this only working in the areas that were part of the Wellness + pilot program.  Any stores in NH by any chance?